Cars, Bikes & Scooters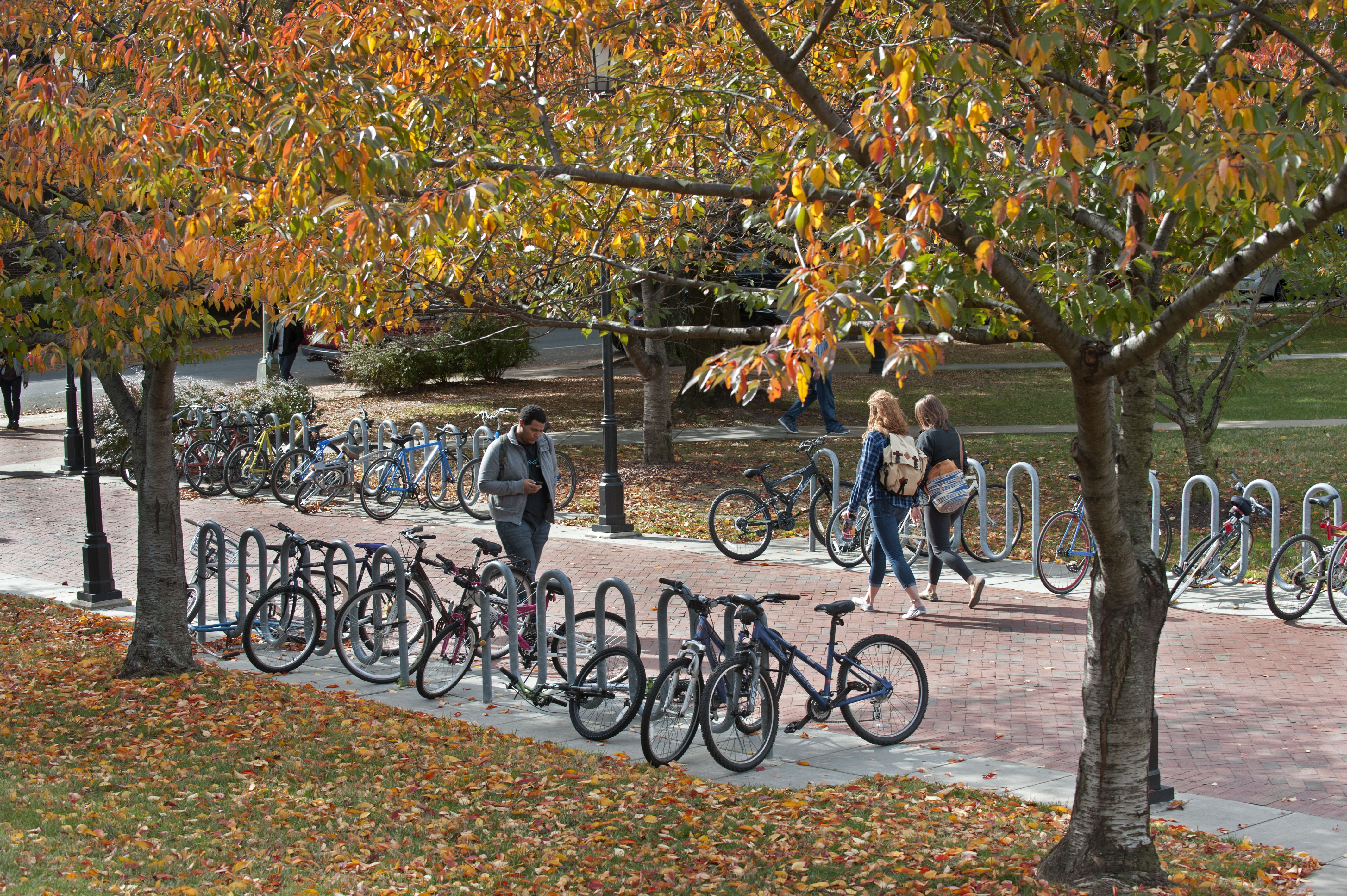 Cars, Bikes & Scooters
Please follow the rules of the road. Your safety and the safety of those around you depend on it. Any questions or concerns related to traffic issues at VCU should be directed to Sgt. Nicole Dailey at (804) 828-6226.
Two-Wheel Tips
Some rules of thumb to remember when bicycling in the VCU area:
Cycling on sidewalks is allowed except where prohibited by local jurisdictions. When riding on the sidewalk, respect the pedestrians and remember they have the right of way.
When riding in the street, follow the same rules as motor vehicles.
Keep to the right of your lane but do not ride in the "door zone" of parked cars. Riding too close to the right often encourages drivers to pass you when there is not enough room. If a lane is narrow, then ride to the center-right of the lane and force cars to wait until they can go around you by using the other lanes to pass.
When turning left, keep to the center-left and allow plenty of time for getting into that position. Do not make left-hand turns from the right-hand lane and across traffic.
Do not assume drivers can see you or are aware of bikes on the road. Most accidents between cycles and cars occur at intersections so be alert. Never wear earphones or talk on your cellphone when riding a bike.
Use hand signals.
Helmets are not required by law, but are strongly recommended. Do not waste your tuition money with a serious head injury!
If you are traveling at night, rear and front lights are required by law: typically white for the front and red for the back. They will light your way and make you more visible to other traffic.
If you are traveling by bicycle, be aware of VCU's biking regulations. Those driving scooters can read up on laws and regulations for scooters and motorcycles.
Bike & Scooter Parking
Racks have been installed throughout VCU's campuses to accommodate the increasing number of students and faculty who commute to campus via bicycles, scooters and mopeds. These racks provide optimal parking for riders while restricting their travel in high-traffic pedestrian areas.
Scooter racks are available at the following locations:
Southwest corner of Hibbs Hall near Park and Grove avenues
12th Street side of the Lyons Dental Building
The parking lot behind Grant House
Traffic
If you're commuting to campus, make sure you are aware of Virginia's traffic laws.
As a tip, we ask that you refrain from using your cellphone while in heavy traffic when your attention is needed most.
Traffic Conditions
Whether you are going to class or work, you need to know traffic conditions. Here, we provide links to live traffic cameras and up-to-the-minute accident information for your viewing.
Please note: in order to view, your browser must be set to allow pop-ups.
Accident / Hazard / Road Condition Reports
Interstate 95 & 64 Traffic Cams
Traffic Issues on the MCV Campus
Traffic patterns have changed at the MCV Campus due to ongoing construction in the area. Be aware of your surroundings and allow more time for travel. Watch for traffic control officers. When you approach an intersection, use your turn signals.
A note for D Deck subscribers: the "No Turn on Red" sign has been removed from the intersection of North 7th Street and East Duval Street. Now you can turn right on red only when it's safe. We are working with the City of Richmond to extend the time for green lights at 7th and Duval, and 10th and Leigh streets.
Car Theft
Nationwide, more than one million cars are stolen each year. A car does not have to be new and shiny to be a temptation. As long as the vehicle is easy to steal, a thief will have his eye on it. Observe the following tips to make your car more difficult to steal.
Rules of the Road
LOCK YOUR CAR! Eighty percent of cars stolen are unlocked.
Never leave valuables in sight.
Don't leave GPS devices or accessories (power cords, earphones, etc.) in view. Utilize antitheft devices such as a PIN unlock code and device registration. Keep your serial number and registration separate.
Consider an antitheft device. Auto alarms, steering column covers, second ignition switches, bar locks, etc., are not foolproof, but may discourage or delay a thief.
Make sure you keep spare car keys at home and not hidden in your car. They can be found.
Park in well-lit, busy areas.
Never leave your car running, especially at a convenience store.
Make sure you have auto theft insurance.
If There's an Accident on Campus
If you become involved in an auto accident on campus, stay calm. Dial (804) 828-1196 or use an Emergency Reporting Telephone System phone and report it to the VCU Police Department. An officer will respond to take a report. If there are any injuries involved, notify the dispatcher so they can have emergency medical services respond as well.