ABLE Training for Officers
ABLE Training for Officers
VCU PD ABLE Program Coordinator:
VCU PD ABLE Instructors
:
VCU Police became an ABLE department in February of 2021 and began implementation with initial training being completed in August of 2021. This program aims to train and reinforce skills so officers will intervene with peers, when necessary, with the intent being that the earlier the intervention, the better. As of August 2022, 100% of VCU Police officers are ABLE-trained.
ABLE was developed by the Georgetown Law Center for Innovations in Community Safety and Sheppard Mullin to train officers in an effort to promote intervention and create a culture supporting positive reception of intervention in an effort to prevent harm.
This program requires a culture that stands on three pillars: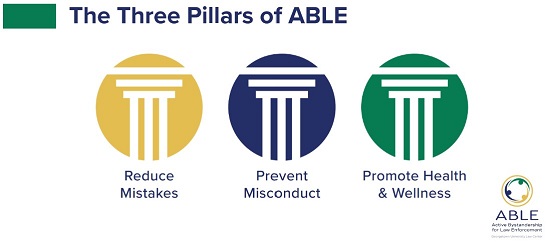 These pillars are all viewed as equally important to the success of the program and therefore are depicted as being identical while also being independent, as they can all be tied to each other.
ABLE Standards
ABLE requires ALL agencies to commit to eight standards upon being designated as an ABLE department. The ABLE standards were recently updated and are being implemented now. These standards are as follows:
I. COMMUNITY ACCOUNTABILITY
a. Letters of support must be submitted
i. Letter from Leader of the Agency
ii. Letter from leader of the jurisdiction
iii. Letter from two independent, community based organizations
b. The agency also must provide regular updates to the each entity that submitted a letter of support
II. TRAINING
a. An initial 8-hour training session required for ALL officers with a 2-hour annual refresher requirement
III. IMPLEMENTATION AND PROGRAM COORDINATION
a. An implementation plan is to be developed with full support of agency leadership to incorporate ABLE department-wide.
b. A program coordinator will be identified, at VCUPD Chief Venuti is presently our program coordinator.
IV. SUPPORTING INTERVENTION IN POLICY AND PRACTICE
a. Department policy must reflect in policy and procedure
i. A strong and defined anti-retaliation policy to ensure any officer who intervenes is not punished, targeted, or ostracized and will fully investigate any instance of retaliation and hold those officers accountable.
ii. Require any instance where intervention did not occur is fully investigated, whether discovered during another investigation.
iii. Recognition of successful intervention - one that prevents misconduct from escalating - as a potential mitigating factor in any consequent discipline proceeding.
V. EMPLOYEE WELLNESS
a. Agency must offer access to licensed professional mental health services for all sworn and non-sworn professional staff. These services may be staffed within the agency or easily accessible via referral or insurance.
b. A dedicated point of contact knowledgeable and able to provide guidance to resources as well as communications publicizing available services
VI. NO NEW INTERVENTION REPORTING REQUIREMENTS
a. Policies are not intended to be changed due to ABLE implementation. If it was reportable before, it remains reportable and vice versa. ABLE trains officers to have tools to prevent problems before they arise or prevent problems from escalating.
VII. DATA AND RESEARCH
a. As ABLE was founded and developed upon research and evidence-informed practices, it is important that all agencies make good faith efforts to participate in research to further the program.
VIII. SUSTAINABILITY & COMMITMENT
a. The program does not end. It is vital to the success of the program that every agency continually emphasizes the goals and principles of Active Bystandership/Peer Intervention.
For more information, or to schedule a community information session, email Det. D. Kelly at kellyd2@vcu.edu.
ABLE Training
The program requires 100% participation, from Chief Venuti to our newest officer, all officers MUST be trained on this program.
VCUPD's ABLE instructors held the first training session in April 2021 and completed the implementation, with all sworn officers employed at the time in November 2021.
The program requires annual refresher training ABLE calls reinforcement modules. These modules will vary from year to year and incorporate new findings and updated practices. VCUPD is currently working towards training all officers on the current reinforcement module.
Source: All program information was sourced from the ABLE Project website, https://www.law.georgetown.edu/cics/able/, as well as resources provided by the ABLE Project to the VCU Police Department.
VCUPD ABLE Ambassadors
VCU Police selected its first group of ABLE Ambassadors in July 2021. These officers were selected after a request for interest was sent to all officers. Their duties are to promote the program and assist with community engagement. Below are the department's ABLE Ambassadors:
A/Det. Sgt. Lee Olds
Det. Cierra Darnell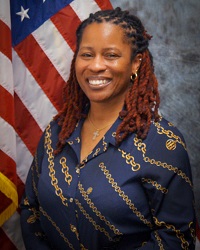 Ofc. Luke Shrader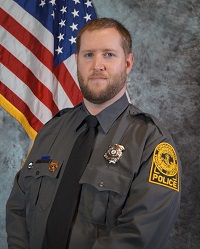 Ofc. John Nicholson
Ofc. David Pulliam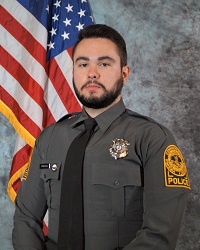 Ofc. Christopher Clark